Pompano Beach Airboat Tours
Explore the Everglades with private airboat tours near Pompano Beach.
Airboat Tours Near Pompano Beach
Are you ready for an unforgettable adventure near Pompano Beach? Experience the unique beauty of the Florida Everglades and its vast wildlife in its natural habitat – all from the comfort and safety of an airboat! Cypress Outdoor Adventures offers the best private airboat tours near Pompano Beach. While our physical launch location is out of Tamarac, we've proudly served residents and visitors of Pompano Beach for years. Contact us today for more information or to schedule your airboat tour!
Take a private airboat tour near Pompano Beach during the day! We offer airboat tours west of Pompano Beach 7 days a week from 7am to 7pm. Book an airboat ride in the early morning to catch the beautiful sunrise over the Everglades or enjoy a midafternoon tour for some fun in the sun. Since all of our airboat rides are private, you can book a custom tour that works best for you and your group.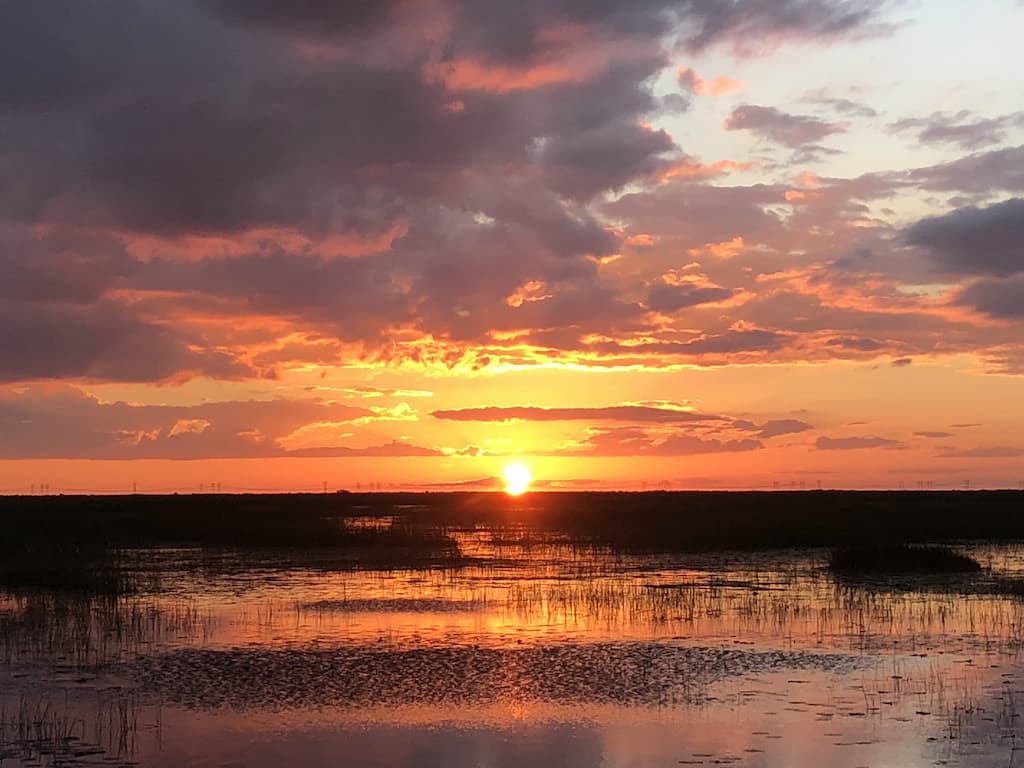 Enjoy a breathtaking sunset over the Everglades and watch the night come alive around you. Our sunset airboat tours near Pompano Beach are the perfect option for those who want to see the American alligator. You can also add 2-hours of bowfishing to your tour for even more excitement. Contact us to add additional bowfishing so that we can make sure weather and water levels are ideal for your tour date.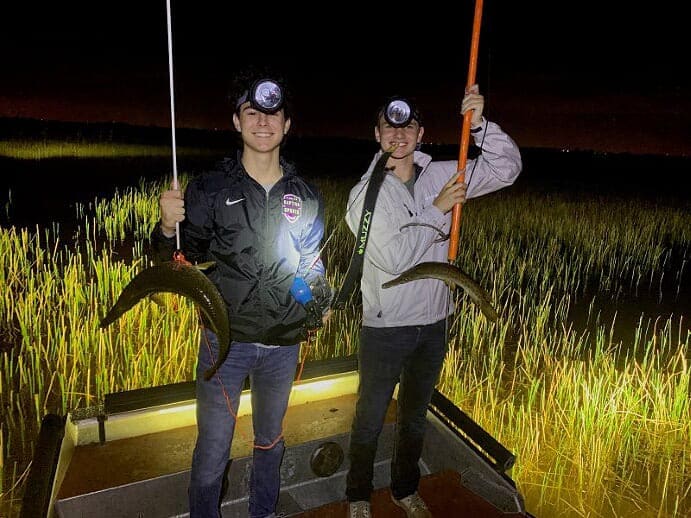 Take the ultimate nighttime fishing adventure. Our bowfishing tours in Pompano Beach are sure to get your adrenaline flowing. Bowfishing combines both fishing and hunting to catch a variety of different fish species. Whether you're a first timer or prop, our tours are perfect for everyone! All equipment is provided, but you're always welcome to bring your own. Our experienced tour captain will show you the ins and outs of bowfishing in the Everglades.
Pompano Beach Airboat Tour Packages
All of our airboat tours near Pompano Beach are flat rate charters. We offer quick one-hour airboat tours for those limited on time, and two-hour airboat tours for those who'd like to enjoy a bit more time in nature. We recommend our two-hour airboat tours for anyone who has the time. You'll get to see more of the Everglades, have more photo opportunities, and you're likely to see more alligators and other wildlife on our longer tours. 
NOTE: Due to increased fuel prices, there's a temporary $10 surcharge per rider. We can also accommodate large parties on multiple airboats with advanced notice. If you have more than 10 riders in your group, contact us today for a free quote.
1-Hour Airboat Tour
Quick Tour
Private airboat ride in the Everglades

Price includes up to 2 riders

For additional adults: $50 / rider

For kids 12 years old and under: $25 / rider

Max capacity for up to 10 riders
1.5-Hour Airboat Tour
New Tour Option!
Private airboat ride in the Everglades

Price includes up to 2 riders

For additional adults: $50 / rider

For kids 12 years old and under: $25 / rider

Max capacity for up to 10 riders
2-Hour Airboat Tour
*Most Popular Tour*
Private airboat ride in the Everglades

Price includes up to 2 riders

For additional adults: $50 / rider

For kids 12 years old and under: $25 / rider

Max capacity for up to 10 riders
The Best Airboat Tours Near Pompano Beach
Everglades Airboat Rides
You may be wondering what an airboat even is. An airboat is a flat-bottomed boat that's propelled by a large, caged fan on the back of the boat. They are commonly referred to as a fanboat or swamp boat. Standard boat engines with the propeller submerged under water aren't capable of navigating through shallow waters, making airboats the better way to travel through the Florida Everglades.
The Everglades is a natural region of subtropical wetlands in South Florida. It is the largest subtropical wilderness in the United States, covering a vast area south of Lake Okeechobee all the way down to the Florida Bay. The intricate system of rivers flow near Pompano Beach, which is close to where we offer our Everglades airboat tours. Our Pompano Beach airboat tours are an exciting way to explore the unique wildlife and diverse habitat of the Everglades, where you may see the American alligator and various species of turtles, fish and birds.
Meet Your Captain
Cypress Outdoor Adventures has been offering private airboat tours near Pompano Beach for many years, with returning visitors each year. We aim to provide our customers with a safe, fun, and memorable experience while visiting the Everglades. All of our Pompano Beach airboat rides are expertly guided by the experienced and USCG certified Captain Bill. Captain Bill is licensed by the coast guard and grew up in the Everglades, making him one of the most knowledgeable captains around. You can always learn more about Captain Bill here.
Why Choose Cypress Airboat Tours in Pompano Beach?

Years Of Experience
Cypress Outdoor Adventures is a dream that I've had since I was a child. I was fortunate to grow up in the Everglades. My father would take me out almost every weekend and we would explore the Everglades with family and friends. The life's lessons and respect learned for mother nature and other Gladesmen, are what made me the person I am today. It built strong bonds with my family and gave me a deep appreciation for nature.

Eco Friendly
On your airboat ride you will encounter different types of wildlife; from the different bird species, different types of turtles and of course the American alligator. As we cruise on your private airboat tour you will also see different types of vegetation from cypress , to sawgrass and different types of flowers. I tell my customers about the history of the glades from its days long ago to the impact man has had on this fragile ecosystem. It's a great way for family and friends to bond and enjoy each other's company in a private setting.

Safety First
Whether its a large or small group, we can accommodate your needs. The airboats are meticulously maintained for safety and performance. The airboat engines are performance racing engines that are inspected on a daily basis. When you step onboard one of my boats you know that you were stepping on a show quality vessel.
See What Our Customers Had To Say
We had a great time exploring the Everglades with Captain Bill. He we very knowledgeable and interesting, and made the entire morning a lot of fun! I would highly recommend.
Gregory

Captain Bill is amazing!!!!!!! He knows the Everglades like the back of his hand!! We saw a lot of gators and snakes! Bill provided everything we needed to keep our family safe! We are already planning another tour early next year!!
Jordan

THANK YOU, Captain Bill (Cypress Outdoor Adventures)! We just finished a sunset excursion and had the time of our lives! Our 11 year old and almost-four-year old boys had a blast. We saw about a dozen alligators ranging in size, beautiful birds, heard the bullfrogs and witnessed a gorgeous sunset!
Nikki
If you're looking for the best airboat ride in South Florida, honestly – look no further! My husband and I had the most incredible airboat experience with Captain Bill. He is punctual, friendly, beyond knowledgable, and tailored the entire evening to our requests. .
Melanie
This error message is only visible to WordPress admins
Error: No connected account.
Please go to the Instagram Feed settings page to connect an account.