Explore one of the world's most unique ecosystems with the Florida Everglades airboat tours at Cypress Outdoor Adventures!
Welcome to the ultimate adventure in the heart of the enchanting Everglades! As a premier airboat tour company, we invite you to embark on a journey like no other. Cypress Outdoor Adventures offers the best airboat tours in the Florida Everglades. We promise not just a boat ride, but an immersive experience through the unique ecosystem of the Everglades. Discover the untamed beauty of Florida's most spectacular landscapes, all under the guidance of our expert captains. Embrace the wild side—your adventure starts here.
Choose Your Airboat Adventure
Escape the hustle and bustle of the city. Join us for an Everglades airboat tour! We offer the following types of airboat tours in South Florida: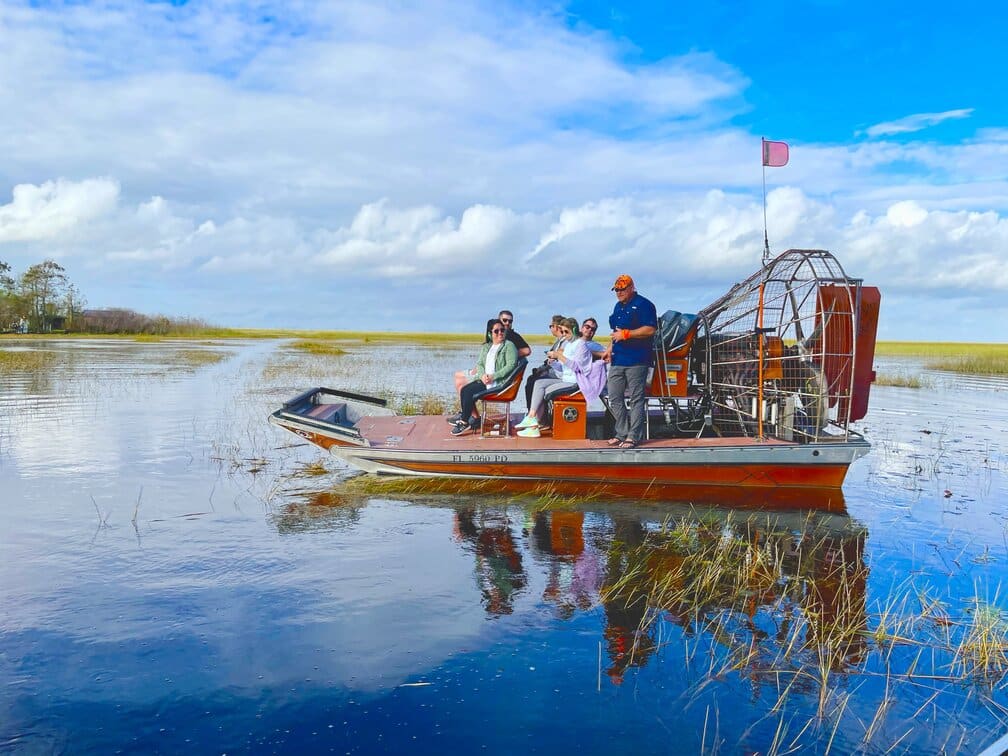 Join an Everglades airboat tour during the day. We offer day tours 7 days a week, from sunrise to sunset.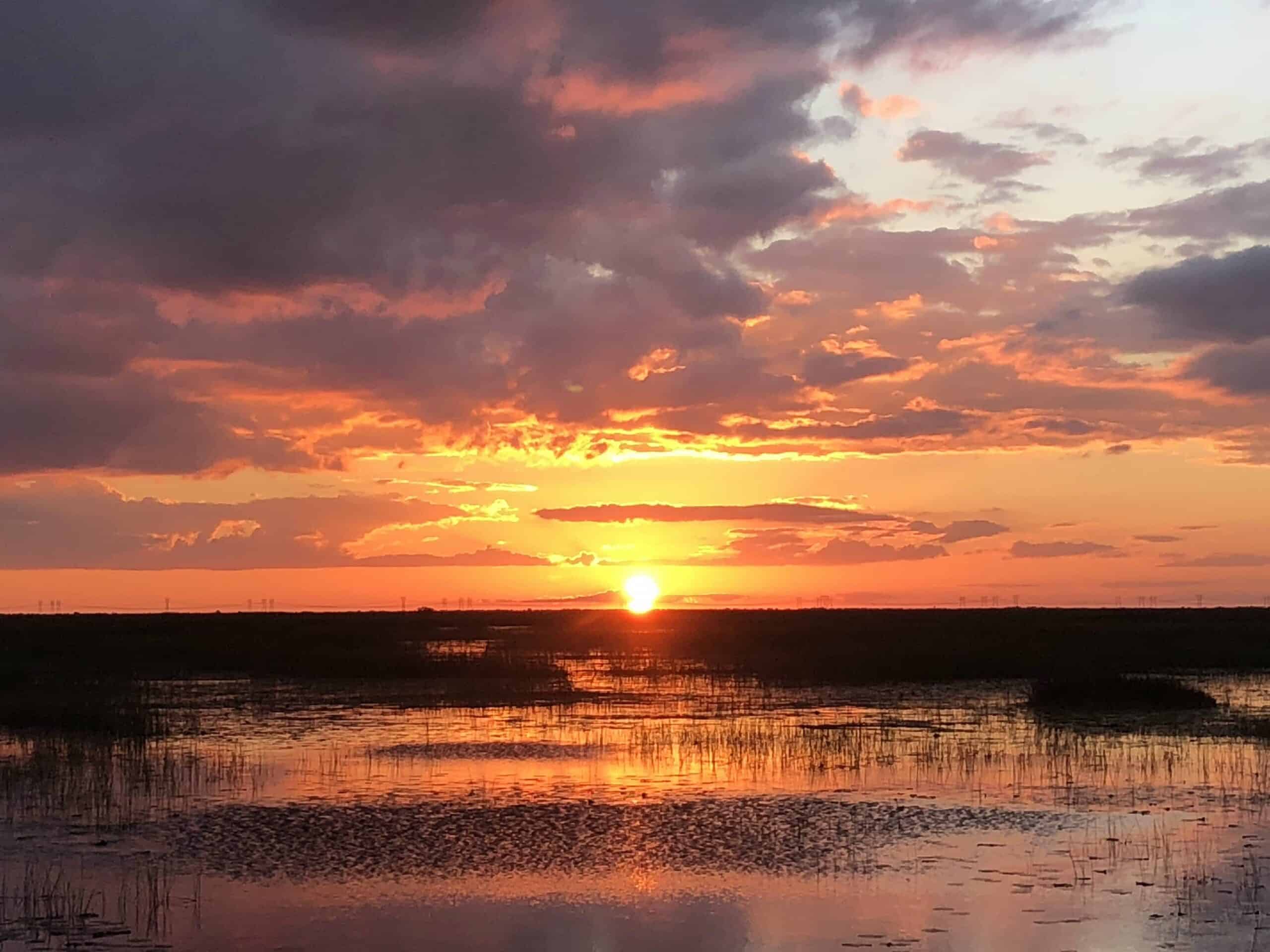 Sunsets over the Everglades offer a truly unforgettable experience. Enjoy the vibrant splashes of color throughout the sky with a sunset airboat tour!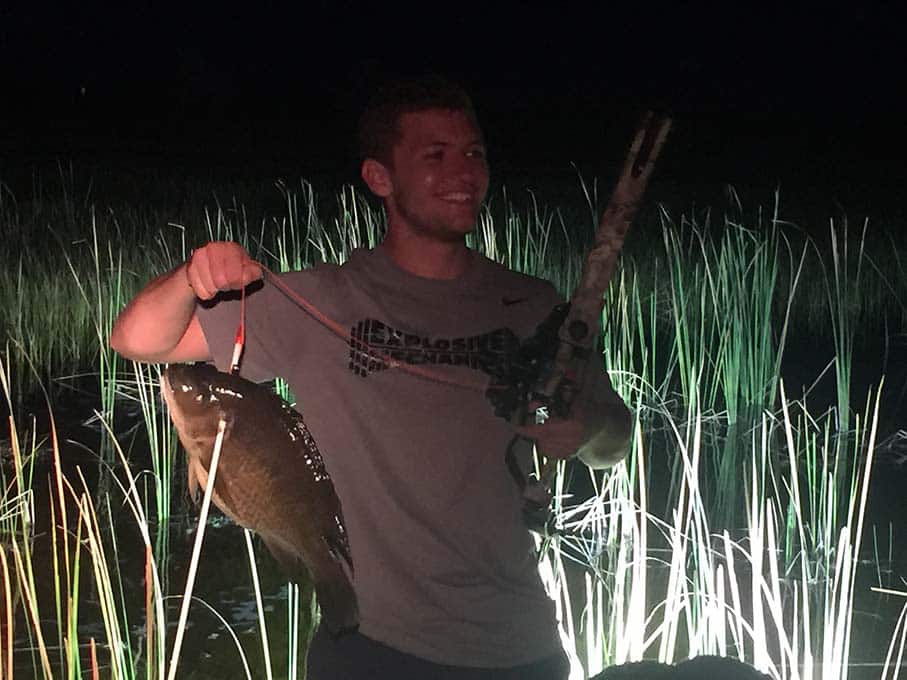 Catch a variety of types of fish in the Everglades, including grouper and snapper! Our bowfishing tours are perfect for all ages and skill levels.
Florida Everglades Airboat Tours 
with Cypress Outdoor Adventures
What is an Airboat?
An airboat is a type of watercraft that is designed to operate in shallow waters, particularly in marshes, swamps, and other wetland areas. It's commonly referred to as a "fan boat" since it's propelled by a large, caged fan that sits on the back of the boat. Airboats are commonly used for a variety of purposes, including transportation, fishing, hunting, research, and especially for recreational and tourism activities like wildlife tours.
Standard boat engines typically have the propeller submerged underwater, making it extremely difficult for them to navigate through the shallow waters of the Everglades. Thanks to the flat-bottom of an airboat, you can now easily glide through the swampy region while still enjoying the safety of a boat. Their ability to traverse areas that might be inaccessible to traditional boats makes them particularly well-suited for exploring ecosystems like the Everglades, where water levels can be highly variable and vegetation can be dense.
Explore the Florida Everglades With an Airboat Ride
The Florida Everglades is an expansive region of subtropical wetlands located in the southern part of Florida. The ecosystem covers about 2 million acres of Florida, making it one of the largest and most ecologically diverse marshland systems in the United States. The vast, slow-moving river (also referred to as the "River of Grass") starts just south of Lake Okeechobee and travels all the way down towards the keys. The Everglades encompasses a wide range of habitats, including sawgrass prairies, freshwater marshes, cypress swamps, hardwood hammocks, and mangrove forests.
Our airboat tours will take you through the labyrinth of mangrove tunnels and through the swampy wetlands of the Everglades. Capture the sight of alligators lounging in the sun's rays, tropical birds soaring overhead, and playful otters swimming in the water. Your journey doesn't just stop there. Each Everglades airboat tour doubles as an educational adventure. We'll immerse you in the rich history, diverse ecology, and captivating folklore of the Everglades.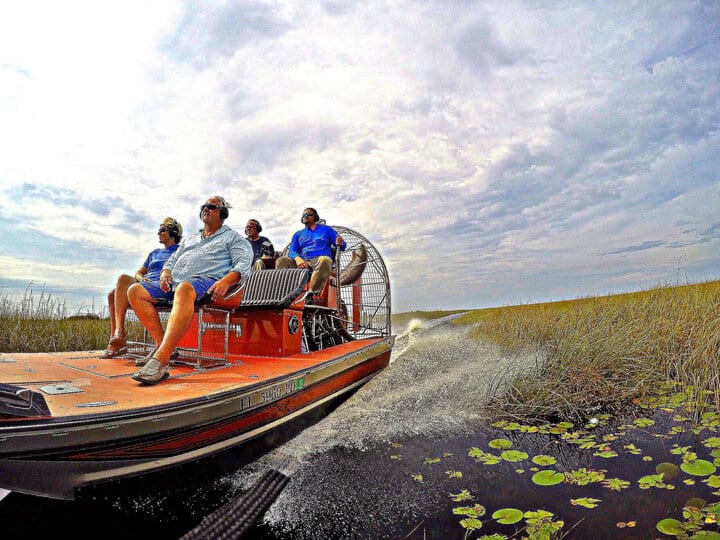 Animals & Wildlife to See on Everglades Airboat Rides
Everglades airboat tours offer you an opportunity to encounter a wide variety of diverse animals, wildlife and plant species. Here's what you can expect to see on one of our Everglades airboat tours:
Alligators: Perhaps the most iconic Everglades resident, the American alligator can be spotted basking in the sun near the water's edge.
Birds: The Everglades is home to over 350 different species of birds. You can see various birds like blue herons, egrets, and spoonbills, as well as raptors like ospreys and bald eagles.
Mammals: Though they may be less frequently seen than alligators and birds, the Everglades also host a variety of mammals. This includes creatures like the Florida panther, bobcats, white-tailed deer, and even the occasional black bear. You're likely to see raccoons, opossums, and maybe even a friendly river otter.
Reptiles & amphibians: Aside from alligators and crocodiles, you can spot a variety of turtles, snakes, lizards, and a multitude of frog species.
Fish: The Everglades are swimming with fish, including largemouth bass, tarpon, snook, and catfish, among others.
Insects: The Everglades is also home to a wide variety of insects. You might encounter butterflies, dragonflies, and various other species. Mosquitoes are also quite common, so bug repellent is highly recommended.
Plant Life: The Everglades is a mix of wetlands, marshes, and hardwood hammocks, all of which host a variety of plant life. You'll see sawgrass marshes, mangroves, cypress trees, and possibly the ghost orchid, one of the rarest flowers in the world.
Landscapes: You'll experience a variety of landscapes, from the wide-open "River of Grass" to mangrove tunnels. The Everglades is an incredibly diverse ecosystem, and its landscapes are remarkably different from anything else you'll see in the United States.
Remember that while your tour guide will do his best to point out and identify wildlife, each airboat ride is unique. Animal sightings can depend on a variety of factors, including the weather, time of day, or even the season. That's all part of the adventure though. You never know exactly what you'll see on an Everglades airboat tour until you experience it for yourself!
Why Choose Our Everglades Airboat Tours?

Expert Tour Guide
Our Everglades airboat tours are led by our highly seasoned captain. Captain Bill is a Florida native and has years of experience navigating the intricate waterways of the Everglades. His profound knowledge about the ecosystem and respect for all of its inhabitants guarantees an exciting journey on an airboat tour. Our captain not only serves as your tour guide, but also an educator, ready to answer any and all questions you may have about this amazing area.

Eco-Friendly Tours
Explore the fascinating beauty of the Florida Everglades on our new, state-of-the-art airboats. These boats combine safety, comfort, and the thrill of speed to ensure a seamless glide through the shallow marshes. Each airboat is equipped with a high-performance, environmentally-friendly engine to take you closer to nature without disturbing the delicate ecosystem.

We Prioritize Safety
We prioritize the safety of our guests and employees. All of our airboats are meticulously maintained for safety and performance. Our airboats contain performance racing engines that are thoroughly inspected and tested on a daily basis prior to any tour. We adhere to strict regulations and safety protocols to ensure safe operations.
FAQ
See answers to the most frequently asked questions about our Everglades airboat tours. Don't see an answer to your question? Get in touch today for more information.
What is an airboat ride?
An airboat ride or tour is a thrilling adventure that allows you to explore the unique ecosystem of the Florida Everglades. You'll board a flat-bottomed boat powered by a large propeller or fan, which glides across shallow waters and marshes.
Are airboat tours safe?
Yes, airboat tours are very safe. Reputable airboat tour companies like ours will have knowledgeable captains that follow strict regulations and safety protocols to ensure your safety at all times. Listen to your tour guide, wear appropriate clothing, and have fun!
Are airboat tours family friendly?
Yes, our Everglades airboat tours are perfect for the entire family! Children 6 years and under are required to wear a USCG approved life vest. We welcome families with children of all ages to join our airboat tours and offer discounted rates for children under 12 years of age.
How much do airboat tours cost?
The cost of our Everglades airboat tours start from just $275 depending on the tour you're looking for. Seasonal discounts are also available throughout the year. Give us a call to see if we have any discounts available.
How many people fit on an airboat?
The airboat can comfortably fit up to 10 passengers. We can accommodate larger parties with over 10 riders on multiple airboats. If you have more than 10 people in your group, get in touch for more information.
Are your airboat tours private?
Yes, all of our Everglades airboat tours are private at this time. Our expert tour guide will take your party out on a private tour of the Florida Everglades. We eventually plan to offer group tours for smaller parties to join another group.
Which is the best Everglades airboat tour?
The best Everglades airboat tour is the sunset tour at Cypress Outdoor Adventures. You'll get the chance to explore the swampy wetlands, see alligators and other wildlife, have amazing photo opportunities, and watch the beautiful sunset over the Florida Everglades.
When is the best time of day to take an airboat tour?
When the weather is nice, the best time of day to take an Everglades airboat tour is around dawn or dusk to see the most wildlife. If the weather is cooler, then midday is usually the best time for Everglades airboat tours.
What to wear on an airboat ride?
Being comfortable during your Everglades airboat ride makes the experience even more enjoyable. Here's what to wear on an airboat ride: 
Sunscreen
Polarized sunglasses
Hat
Shorts (summer)
Pants (winter)
T-shirt
Jacket
Sandals or shoes
What to bring on an airboat ride?
For the best experience, we recommend bringing the following items on an airboat ride:
SPF / sun protection
Polarized sunglasses
Bug spray
Camera
Snacks
Water & drinks (alcoholic beverages allowed)
Rain jacket
Sense of adventure
How long are Everglades airboat tours?
Most Everglades airboat tours in the area are about 1 hour long or less. Our Everglades airboat tours range from 1 to 2 hours depending on the type of tour. We recommend the longer tours if time permits to see more alligators and other wildlife.
Do you see alligators on airboat tours?
Alligators are very common to see on Everglades airboat tours. While each tour is unique, you're likely to see an alligator around dawn or dusk during warmer seasons or during the middle of the day for colder seasons.
What happens if the weather is bad?
Airboat tours may be postponed or canceled in the event of adverse weather conditions such as lightning, heavy rain, or high winds. If we're unable to reschedule your airboat ride for any reason, you will receive a full refund. You can always check in with us before your scheduled tour to confirm the status, especially if you're concerned about weather conditions.
Do we need to book an Everglades airboat tour in advance?
We highly recommend booking your Everglades airboat tour in advance to ensure you reserve a date that works for you and have access to the best tour time slots available. However, we also offer same day and next day booking options if we still have availability.
See What Our Customers Had To Say
We had a great time exploring the Everglades with Captain Bill. He we very knowledgeable and interesting, and made the entire morning a lot of fun! I would highly recommend.
Gregory

Captain Bill is amazing!!!!!!! He knows the Everglades like the back of his hand!! We saw a lot of gators and snakes! Bill provided everything we needed to keep our family safe! We are already planning another tour early next year!!
Jordan

THANK YOU, Captain Bill (Cypress Outdoor Adventures)! We just finished a sunset excursion and had the time of our lives! Our 11 year old and almost-four-year old boys had a blast. We saw about a dozen alligators ranging in size, beautiful birds, heard the bullfrogs and witnessed a gorgeous sunset!
Nikki
If you're looking for the best airboat ride in South Florida, honestly – look no further! My husband and I had the most incredible airboat experience with Captain Bill. He is punctual, friendly, beyond knowledgable, and tailored the entire evening to our requests. .
Melanie