Escape the ordinary. Embrace the adventure. Take a ride on the wild side and join our airboat tours in Miami. Book your adventure today!
Airboat Rides Near Miami, Florida
Welcome to Cypress Outdoor Adventures! We are your premier choice for unforgettable airboat rides near Miami. We offer group and private tours in the heart of Florida's pristine Everglades. Take an airboat through the mysterious mangroves, travel across the vast wetlands, and get up close to the amazing wildlife that calls the Everglades home. Expect to encounter alligators basking in the sun, tropical birds of striking colors taking flight, and maybe even a playful family of river otters.
Why not make this year more about nature? Escape the busy city life of Miami and join an Everglades airboat tour! Airboat tours are safe and fun for people and children of all ages. Each tour is led by a U.S. Coast Guard (USCG) licensed and insured captain that is native to the Everglades. Learn more about what to expect below or book your tour today!
Choose Your Miami Airboat Tour
We offer the following types of airboat tours near Miami: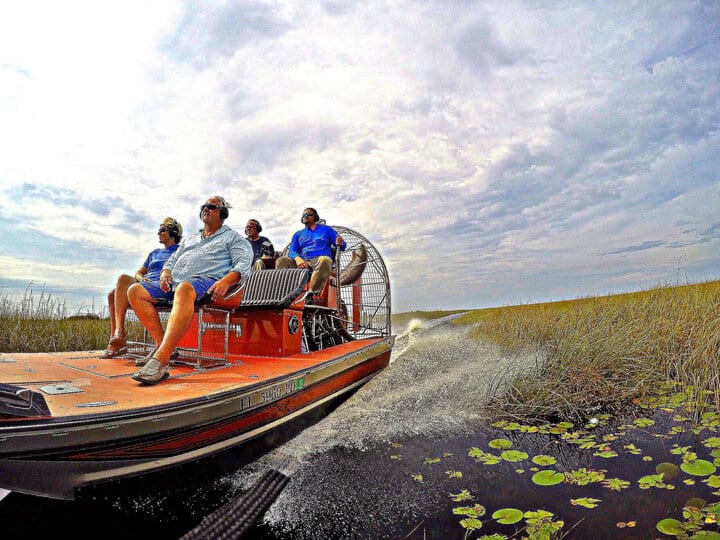 Join an airboat tour during the day. We offer day tours 7 days a week, from sunrise to sunset.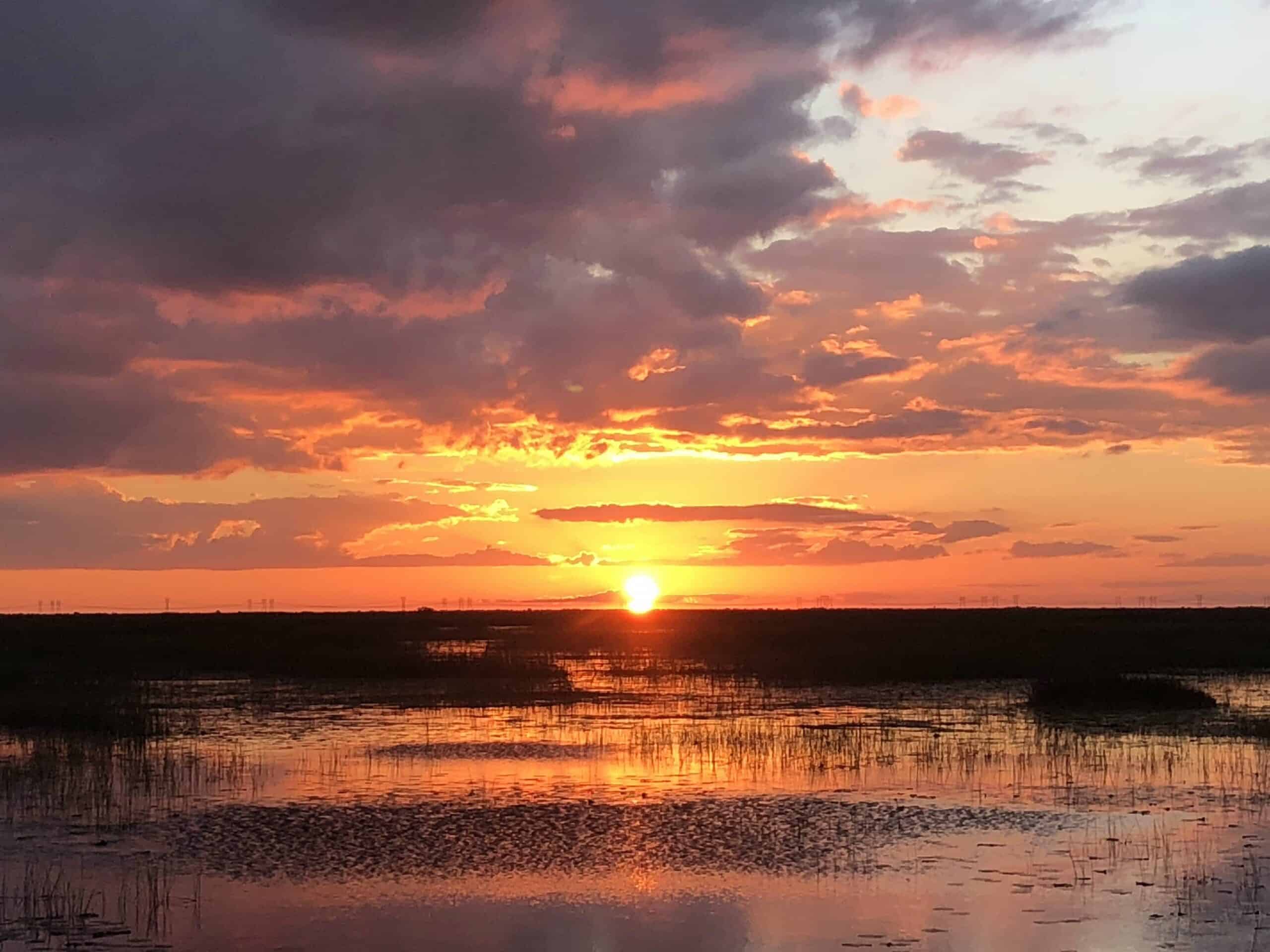 Sunsets over the Everglades offer a truly unforgettable experience. Enjoy the vibrant splashes of color throughout the sky with a sunset tour!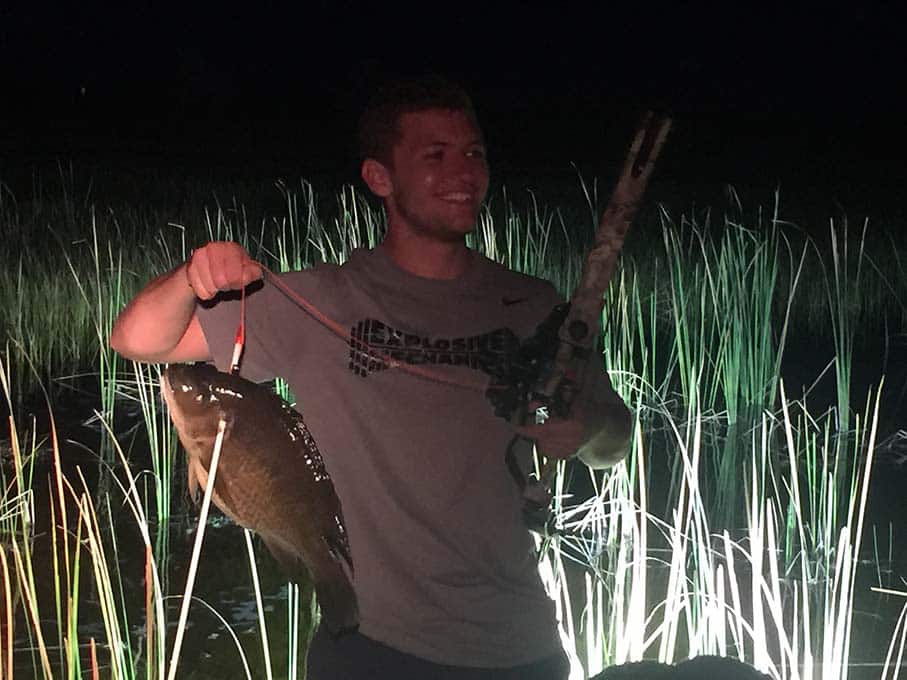 Catch a variety of types of fish in the Everglades, including grouper and snapper! Our bowfishing tours are perfect for all ages and skill levels.
What To Expect on a Miami Airboat Ride 
with Cypress Outdoor Adventures
Prepare to be amazed as our airboat tours near Miami take you through the labyrinth of mangrove tunnels and vast wetlands teeming with life. Capture the sight of alligators lounging in the sun, vibrant birds soaring in the azure skies, and playful otters frolicking in the waters. But the journey doesn't stop there. Each airboat tour doubles as an educational adventure. We'll immerse you in the rich history, diverse ecology, and captivating folklore of the Everglades. Here's what to expect on our Miami airboat rides:
New Airboats
Explore the fascinating beauty of the Everglades on our new, state-of-the-art airboats. These vessels are meticulously designed to combine comfort, safety, and the thrill of speed, ensuring a seamless glide over the shallow marshes. Each airboat is equipped with a high-performance, environmentally-friendly engine to take you closer to the aquatic life below without disturbing the delicate ecosystem.
Experienced Captain
Each airboat tour in Miami is led by our seasoned captain. Captain Bill is a Florida native and has years of experience navigating the waterways of the Everglades. His profound knowledge about the ecosystem and respect for its inhabitants guarantees a fascinating journey into the wild. Our airboat captain not only serves as a tour guide, but also an educator, ready to answer any and all questions you may have about this amazing area.
Personalized Tours
Private airboat tours near Miami are tailored to your preferences, interests, and schedule. You have the opportunity to customize aspects of the tour, such as the duration, time of tour, and the focus of the experience. Our airboat tour guide can adapt the history and insights provided based on what you're interested in learning about.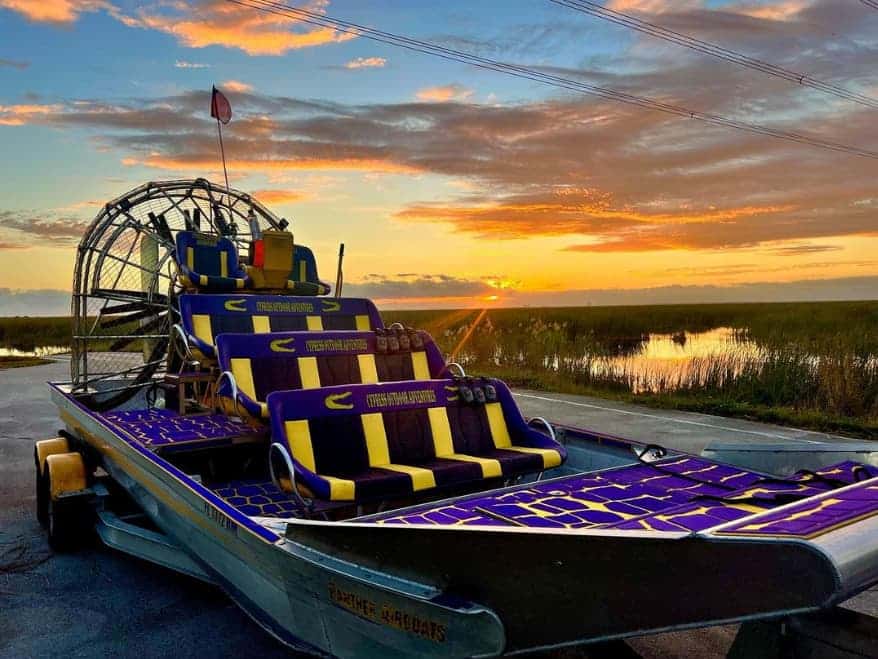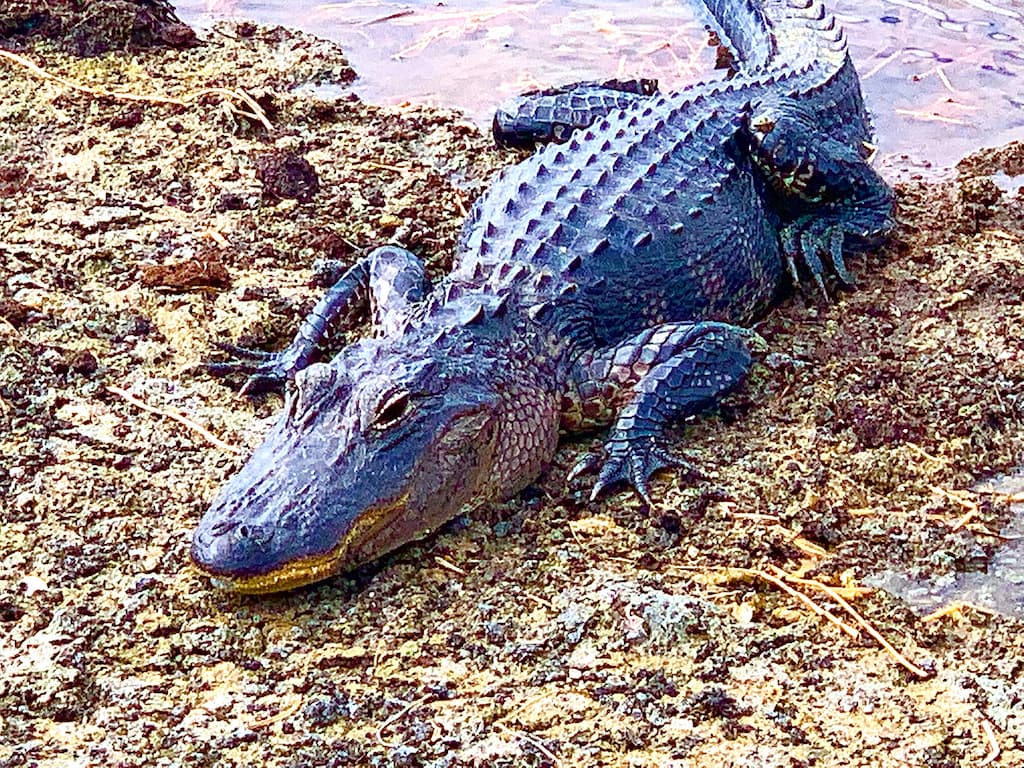 Animals & Wildlife
An airboat tour through the Florida Everglades offers you an opportunity to encounter a wide variety of wildlife and diverse plant species. Here's what you can expect to see on an airboat ride near Miami:
Alligators: The Everglades is home to both the American alligator and the American crocodile. These iconic creatures can often be seen lounging on the banks or swimming through the waters.
Birds: The Everglades are a birder's paradise. Over 350 different species of birds have been identified in this region. You can see wading birds like herons, egrets, and spoonbills, as well as raptors like ospreys and bald eagles.
Mammals: Though they may be less frequently seen than alligators and birds, the Everglades also host a variety of mammals. This includes creatures like the Florida panther, bobcats, white-tailed deer, and even the occasional black bear. You're likely to see raccoons, opossums, and maybe even a river otter.
Reptiles & amphibians: Aside from alligators and crocodiles, you can spot a variety of turtles, snakes, lizards, and a multitude of frog species.
Fish: The Everglades are swimming with fish, including largemouth bass, tarpon, snook, and catfish, among others.
Insects: The Everglades is also home to a wide variety of insects. You might encounter butterflies, dragonflies, and various other species, although mosquitoes are also quite common, so bug repellent is often recommended.
Plant Life: The Everglades is a mix of wetlands, marshes, and hardwood hammocks, all of which host a variety of plant life. You'll see sawgrass marshes, mangroves, cypress trees, and possibly the ghost orchid, one of the rarest flowers in the world.
Landscapes: You'll experience a variety of landscapes, from the wide-open "River of Grass" to mangrove tunnels. The Everglades is an incredibly diverse ecosystem, and its landscapes are remarkably different from anything else you'll see in the United States.
Remember that while our airboat tour guide will do his best to point out and identify wildlife, each tour is unique. Animal sightings can depend on a variety of factors, including weather, time of day, and season of the year. But that's part of the adventure – you never know exactly what you'll see on an Everglades airboat tour in Miami!
Why Choose Our Miami Airboat Rides?

Years Of Experience
Cypress Outdoor Adventures is a dream that I've had since I was a child. I was fortunate to grow up in the Everglades. My father would take me out almost every weekend and we would explore the Everglades with family and friends. The life's lessons and respect learned for mother nature and other Gladesmen, are what made me the person I am today. It built strong bonds with my family and gave me a deep appreciation for nature.

Eco Friendly
On your airboat ride you will encounter different types of wildlife; from the different bird species, different types of turtles and of course the American alligator. As we cruise on your private airboat tour you will also see different types of vegetation from cypress , to sawgrass and different types of flowers. I tell my customers about the history of the glades from its days long ago to the impact man has had on this fragile ecosystem. It's a great way for family and friends to bond and enjoy each other's company in a private setting.

Safety First
Whether its a large or small group, we can accommodate your needs. The airboats are meticulously maintained for safety and performance. The airboat engines are performance racing engines that are inspected on a daily basis. When you step onboard one of my boats you know that you were stepping on a show quality vessel.
FAQ
See answers to the most frequently asked questions about our airboat tours near Miami, Florida. Don't see an answer to your question? Get in touch today for more information.
What is a Miami airboat tour?
An airboat is a flat-bottomed boat that's propelled by a large fan. This is why airboats are commonly referred to as "fanboats". Typical boat engines can't navigate through shallow water, making airboats one of the best ways to travel through the swampy region of the Everglades.
When is the best time to take an airboat tour in Miami?
The best time to see the wildlife in the Everglades is dependent on temperature, time of year, and water level. In the summertime, you'll see more wildlife in the morning. In the winter, you'll see more wildlife midday.
What to bring on an airboat tour in Miami?
To have the best experience on your Miami airboat ride, you should bring these items with you:
Sunscreen
Sunglasses
Rain jacket
Bug spray
Snacks
Water and beverages
Camera
How much do airboat tours in Miami cost?
Our airboat tours near Miami are one of the most affordable options in the area! We offer airboat tours starting from $275 for 2 riders. We run special discounts to make our tours even more affordable. Call today for current specials!
See What Our Customers Had To Say
We had a great time exploring the Everglades with Captain Bill. He we very knowledgeable and interesting, and made the entire morning a lot of fun! I would highly recommend.
Gregory

Captain Bill is amazing!!!!!!! He knows the Everglades like the back of his hand!! We saw a lot of gators and snakes! Bill provided everything we needed to keep our family safe! We are already planning another tour early next year!!
Jordan

THANK YOU, Captain Bill (Cypress Outdoor Adventures)! We just finished a sunset excursion and had the time of our lives! Our 11 year old and almost-four-year old boys had a blast. We saw about a dozen alligators ranging in size, beautiful birds, heard the bullfrogs and witnessed a gorgeous sunset!
Nikki
If you're looking for the best airboat ride in South Florida, honestly – look no further! My husband and I had the most incredible airboat experience with Captain Bill. He is punctual, friendly, beyond knowledgable, and tailored the entire evening to our requests. .
Melanie
This error message is only visible to WordPress admins
Error: No connected account.
Please go to the Instagram Feed settings page to connect an account.