The history of the Airboat dates back to 1905 and was invented by Alexander Graham Bell. The reason for its inception was to test different types of propulsion systems. The early name of these boats was called the fan boat. They are a popular form of transportation in marshy areas such as the Florida Everglades and the Louisiana bayou's. Airboat does not need Deepwater such as an outboard engine would. Nowadays these boats don't even need water and can be driven across the land. With the advances in modern-day technology, you have airboats powered by aircraft engines or car engines.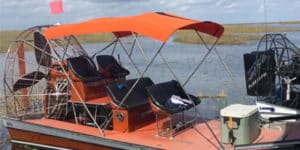 The engines themselves are protected by a metal cage that helps keep debris away from the propeller. Back in the day the propellers were made of wood, but today many 
Everglades airboats
 use carbon fiber propellers.
The Airboat hull is either made of fiberglass or aluminum for strength. Some of them have a protective skin called Polymer which is bolted to the bottom of the airboat hull. This allows the boat driver to drive over hard surfaces and not damage the bottom of the airboat.
There are many different types of airboats. In the Everglades many air boaters enjoy a sled type airboat which allows them to glide over very shallow water. Other types of these boats who encounter deep water like to have their hulls with high sides to prevent sinking. Airboats in Fort Lauderdale can be of many different configurations. Air boaters are a tight knit community and are always there to lend a helping hand. If in boat is stranded or broken down people not just from Fort Lauderdale but all over will travel to make sure that that person in their family are safely brought back. The airboat code is to always lend a helping hand to a fellow boaters.
People lying counter in Fort Lauderdale ask me how they can get in to airboating. I tell them they should contact the Broward Airboat club and also join Southern 
airboat.com
 where they can learn a wealth of information and knowledge from the old time Airboater's.